Defiant Discord Server
If you like Defiant RPG and would like to connect to other Defiant fans, chat, and find people to play with, join our Discord server!
Defiant Bot
If you want to play Defiant online using Discord, we've got you covered. To start off, we've got a beta version of our Defiant Bot, a little feature to enhance playing Defiant on Discord. To invite the Bot to your server, simply click here (you can create new discord servers for free or use your current server if you already have one).
The bot uses "slash commands," so once you invite it to a server, start writing the "/" symbol, and the list of commands should become visible. It can do Challenge rolls for you, help with regaining Shards, and rolls for Court management. It can also display a complete list of your Character's Theme Questions and Special Rules and gives you lists of things like Personal Affairs options.
Defiant Dice App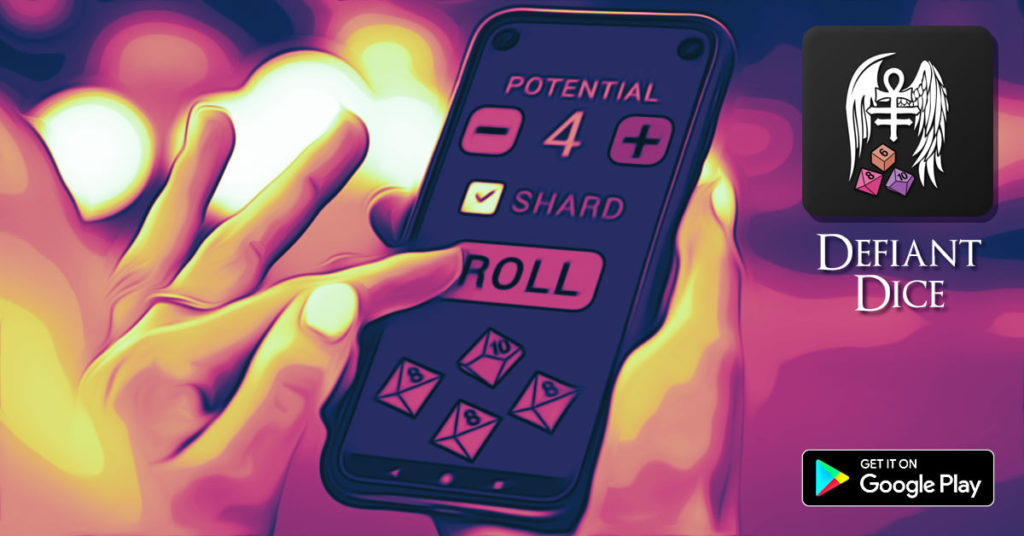 Defiant Dice is an Android App, that can replace the physical dice during your Defiant RPG sessions. It can calculate the dice pool, roll the dice for you, and give you the basic interpretation of the result. Get it here on Google Play: http://shorturl.at/juDVY
Defiant Gaming Aids in PDF
Download Character Creation Cards and other Gaming Aids for Defiant RPG and print them out to make Character Creation a smooth experience!
Defiant Thread App
Defiant Thread App is a GM tool that helps with creating a Thread for your next Episode. You can choose things at random and then customize them by writing in your own ideas and notes. Currently, you can save your work to a PDF. The service is meant to be used on computer screens and I do not recommend using it on a phone. Here's the link, there's no login needed: https://thread.dfnt.online
The Secret Defiant Game
The Secret Game" is a mini-game for GMs who got stuck when designing Secrets for their NPCs. Unlike Defiant Threads, it's meant to serve more as an inspiration and creative challenge. You'll be the ones coming up with the Secrets, the app will simply make it more fun.
You can check out the app at this address: https://secret.dfnt.online
Defiant NPC Finder App
Defiant NPC Finder is an app that lets you swipe through interesting NPCs and find perfect matches for your Chronicles. The app should work just fine on desktops and notebooks, but it's mainly designed with smartphones in mind. Enjoy!